---

A Guide to Choose the Best Virtual Office in Brisbane, Australia
Are you starting to build your own business, but you're on a tight budget? Do you want to test the water of the business world first before you sign a contract for the lease of your office? Do you think it's the right time to start expanding your business?
If you happen to currently encounter one of these problems, it would probably be a great idea to consider a Virtual Office for your business. This new trend allows you to work remotely, mostly from home, yet still maintaining a professional image for your company by getting a Virtual Office service that will surely help your newly opened company or your expansion without hurting your bank account.
But first, what do we mean by Virtual Office? Why use Virtual Office in Brisbane? How does it help grow your business?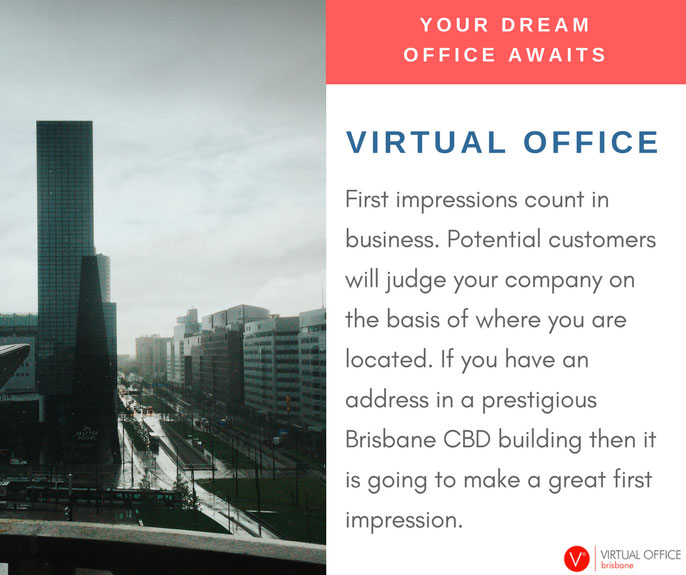 ---
What is a Virtual Office?
As the saying goes, first impressions last. With this in mind, it would be easier for you to sway your future clients with an impressive registered business address.
Virtual means physically not existing and only made by software to make it appear to do so. The concept is somehow the same as Virtual Office. It provides you an actual business location that exists only in marketing collaterals and cyberspaces.
The concept of Virtual Office refers to a business that doesn't have a fixed location, yet functions as a unit to provide goods and services to customers. It relies on the Internet for the exchange of documents, video conferencing for meetings, and cell phones to keep in touch with their employees. It's a perfect solution for startups and SMEs that do not want to spend too much on office rent and other expenses that comes with it, while maintaining office flexibility for your employees to improve productivity.
This is the reason why Virtual Office in a city like Brisbane is quite widespread nowadays as it offers your company to have a prestigious registered business address that will definitely show the financial stability of your company to your clients. A Virtual Office provides you an address that you can put into your business cards, websites, and other marketing platforms of your business. It also offers a wide range of services like mailbox addresses where your clients can send courier deliveries to your virtual location. The deliveries that you receive can either be personally collected during business hours or it can be sent to your physical location at a minimal fee.
Another option you can avail that comes with having a Virtual Office is the Virtual Receptionist & Virtual Assistant services. They can assist you with basic administrative tasks, most especially when it comes to phone answering duties. Also, they can provide a wide range of other responsibilities depending on your needs. Truly, it's like having your own in-house receptionist and assistant but only at a fraction of the cost.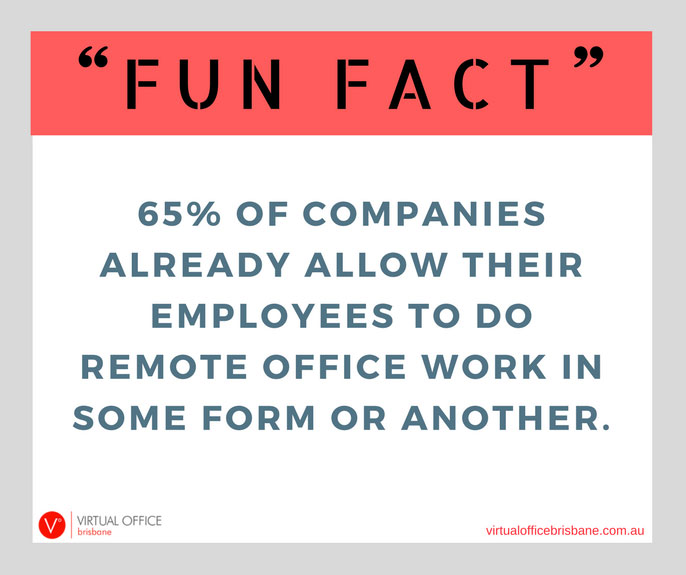 ---
How Does Virtual Office Works in Major Cities Like Brisbane?
They say the only constant thing in this world is change, and when everything around us changes, the world evolves and people will slowly adapt to it. This is how technology shaped us through the years. Technology changes our lives and the generations that will come after us.
With the improvement of Internet and the way we incorporate it into our lives, it is no surprise that more businesses are considering running their operations from home, from multiple locations around their country, or even overseas through the help of the Internet. Technology has helped businesses to work in a virtual environment from anywhere around the world. Your team members can be working from any location they desire and still be able to collaborate and work together to reach your company's goals.
In today's time, technology is so advanced that it even allows you to work anywhere – from your house, your car, coffee shops, and even while you're on vacation. Most companies who opt for Virtual Office services have set up a small office space in their home that is free from distractions as the base of operations while the Virtual Address is just a professional representation instead of using a home address. As long as everyone on your team has access to the Internet, communication is a breeze and operations run smoothly.
But how does Virtual Office works in a Brisbane Central Business District (CBD)? For most businesses, especially for startups, you would want to minimize your cost by starting your operations at home since you do not have a steady flow of income yet. But you still want your company to look professional in the eyes of prospective clients by providing them an office address preferably in a CBD area instead of a residential address. This is where the Virtual Office will come in. Your physical office can be anywhere, but your clients will not know about that since you will provide them a Virtual Office Brisbane address, which will give them the impression that it is the same location where you're also conducting your operation. In case your clients need to mail a document to your office, they can send it to your Virtual Address. If you want to level up your business, you can also avail some of the services being offered like Virtual Receptionist, Virtual Assistant, and 1300 numbers when you need it.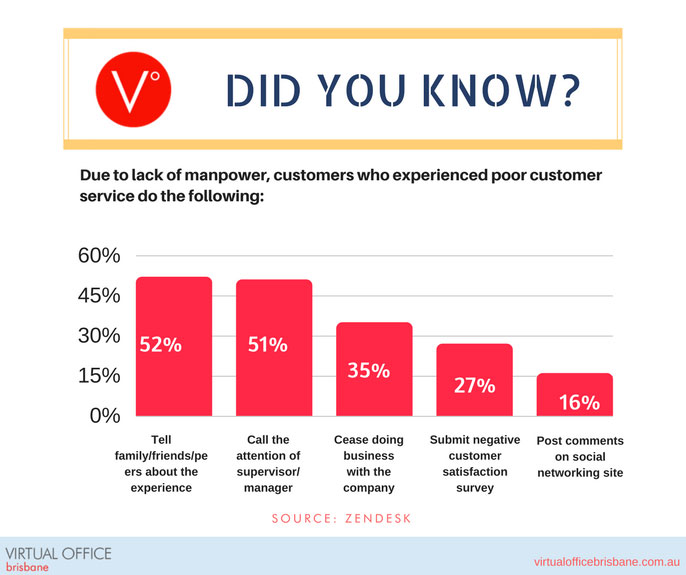 ---
Virtual Office vs. Serviced Office: Which is Right for You?
In today's convenient and modern work setting where flexibility plays a vital role, there are ranges of working environment that you can choose from, i.e., Virtual Office and Serviced Office. A lot of startup businesses or small businesses lack the financial means to rent an office space, purchase expensive office equipment, and pay utility bills all at the same time, which is why Virtual Office and Serviced Office have increased in terms popularity. While each option has its own unique differences, it's important to know which is best for your business, and the last thing you want to happen is to avail a certain service that will not benefit your company.
Like what was mentioned earlier, Virtual Office provides an office address mainly for reputation purposes, but you are still physically working from home. You are paying the right to use that commercial address for your business cards and other marketing materials you need to promote your company. You can also add on a Virtual Receptionist service where they can help you with basic administrative work like answering a phone call for you.
On the other hand, Serviced Office, also known as Executive Suite, is an actual office where you can rent out a specific space from a Serviced Office provider. Renting a serviced office gives you the same advantages as having the traditional office minus the fees associated with space rentals, etc.
While both kinds of office environments have their unique benefits, their common denominator is the money that you will save by reducing your company's overhead cost. Both types of offices give you the flexibility that you can change over time depending on the current needs of your organization.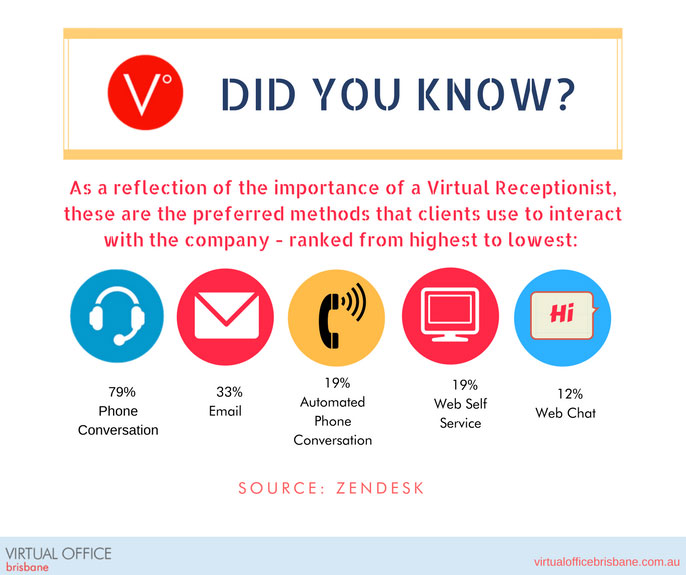 ---
Why Use a Virtual Office in Brisbane?
Virtual Office is not suited for everyone. It's most applicable for businesses that do not always require face-to-face encounters with clients, as well as organizations that can easily operate through the use of the Internet. Also, it's beneficial for companies who hire employees that do not require direct supervision and can work independently. Most important of all, it's ideal for people who prefer to work from home.
Professionals and freelancers may also use Virtual Office to their advantage. One good example is when you're a real estate agent who lives in Brisbane, Queensland and you choose to conduct your business at home – since it's the most practical thing to do. You will save money on renting an office space where there's only one employee, you. Instead, you can allocate a portion of that saved money in availing a Virtual Office in Brisbane where they will provide you a legitimate business address located in the CBD area since it's not going to look good in terms of the image of your business if the address that you will advertise is your home address.
Now that you've found a solution when it comes to your office address, you also have to consider other areas of your business like the necessary manpower. Handling your business alone is not easy, especially with a tight budget. As much as you want to hire an (in-house) assistant to help you with basic administrative work like answering phone calls and taking messages while you're away attending to one of your clients, you are hesitant since it will incur an additional overhead cost for your business. If you only need someone to answer your calls and take messages, most of the Virtual Office service providers also offer Virtual Receptionist service, which will help you solve the issue of juggling your time between answering the phone calls and getting the actual work done. In case you want someone who can help you as well with other tasks aside from the usual receptionist duties, then you can consider availing the Virtual Assistant service.
Setting up a traditional office can be a pain in the neck. You'll need tons of money for rent, renovation, office supplies, furniture and equipment, and the staff salary and benefits to effectively run your physical office. This is the reason why a lot of startups use a Virtual Office first during the early stages of their business. Also, there's no better way to build your company image while working at the comfort of your own home. If you decide to avail of Virtual Office service in Brisbane, you can use the business address that is located in CBD area for your mail correspondence and your marketing collaterals like business cards, websites, and brochures. Here are some other benefits to help you decide before you avail a Brisbane Virtual Office:
1. Nominal Overhead
Admit it, expense is what worries small business entrepreneurs the most. Renting a traditional space in a CBD area is a lot of burden for those starting up. When you rent a space, you only get the space. You still need to buy office fixtures for your team. With Virtual Office, you do not need to sign a lease. Your employees can work from home and you eliminate the need to provide them computers or laptops. You don't need to worry about office utility bills as well. All the money that you can save allows you to invest more in hiring people that can help your business grow.
2. Work-Life Balance
Working long hours in an office can trigger stress for your employees. With Virtual Office, they can have a better work-life balance. Working remotely allows your employees to have less stress associated with their work environment. It's also the best way to show your staff that you have full trust in them. They may even consider this as a perk, since they're being able to save money by eliminating the daily transportation expense in their budget.
3. Save Time on Your Commute
The preparation time to get ready for work and the actual travel time commuting can take up hours of your day. You can instantly eliminate the time you spend in daily commuting and allot the saved time into more productive use.
4. More Employees Can Work
The money you save on your office utility bills means you can allocate it in hiring more employees, or Virtual Receptionist & Virtual Assistant at the least. When you decide to have a Virtual Office, you don't need to worry about space constraints. Your team won't be limited by the availability of physical office space if you intend to expand your business and hire more staff for your company.
5. Increase in Productivity
Since the time used in commuting is taken out of the equation, it means you can spend more time working. This will increase productivity, individually and as a team.
6. Hire Talents from All Over the World
Your company is not limited to hiring employees within the company's city of origin. You will have a diversified selection of talent pool to choose from that is more efficient and more capable.
7. Eco-Friendly Company
Imagine the world where half of the working population is in a Virtual Office set up. This concept would create a domino effect. Fewer people commuting mean fewer vehicles on the road, which would ultimately translate to less pollution, and with less pollution, it would result in a happier and safer environment.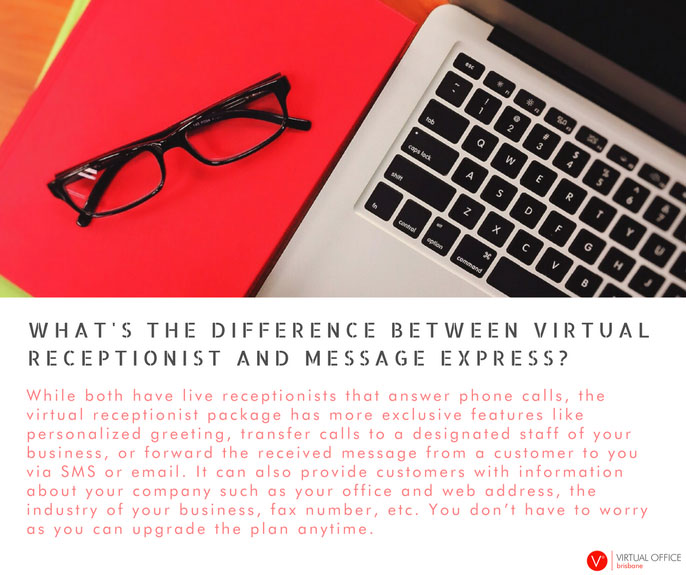 ---
How to Expand Your Business in Brisbane with the Help of a Virtual Office?
Is your business ready for expansion? It's a wonderful feeling when the business you have built with your blood and sweat is now starting to thrive in new locations. Expanding your business doesn't guarantee an instant increase in income. Business expansion comes with corresponding expenses like lease payments, office supplies, and other miscellaneous costs. As a business owner, growing your business doesn't have to break your bank, you just have to be smarter in doing it.
Expanding to new locations like Brisbane, Queensland and the potential of getting new opportunities outside your city of origin can be stimulating, yet risky. Fortunately, with the modern-day set up through the help of technology, there's a way to branch out to new places without threatening your budget. Setting up a Virtual Office in another city or state can help you establish your business in a new area without having to commit to the costly rental of traditional office space.
When thinking about expanding your business, you need to consider the risks that you will face when entering a new territory. There are a lot of things that you have to take into consideration like the unknown market as well as other hidden expenses. One of the ways that will help you alleviate these risks is by capitalizing in a Virtual Office.
If you avail a Virtual Office in Brisbane for your business expansion, you are able to test your market without signing a contract to an expensive lease that will surely take up a lot on your budget.
While you are trying to grow your business further, you do not want to stretch your expenses. Getting Brisbane Virtual Office allows for low operational costs. In that way, you can establish yourself in this location without having to worry about incurring additional costs.
Where to Find a Virtual Office in Brisbane?
When it comes to choosing the right Virtual Office for your business, you need to ensure that you are working with a quality service provider that will help your business provide the right impression to your clients.
One service provider that should be strongly considered is Virtual Office Brisbane, also known as VOB, is a company that's been operating throughout Australia that offers everything you need when it comes to Virtual Office industry. The services offered by VOB ranges from Virtual Receptionist, Virtual Assistant, Virtual Office Address, and 1300 Number to name a few.
Generally, you do not want to pay for something that doesn't meet your expectations. To make sure you are getting the right provider, we have come up with things that you need to consider when deciding on a Virtual Office provider.
1. Good Location
A highly accessible Virtual Office location in Brisbane is a good representation of your company. Thus, it's important to choose a provider that can give you a good location for your virtual address. A clean commercial area can speak volumes about your business. Although a good location may cost you a higher rate, it would still be significantly less than the amount that you will pay if you opt to go for a physical office. With this, choose a Virtual Office in a prestigious location like Brisbane Central Business District to imprint a good impression on your clients.
Virtual Office Brisbane is located at 1/241 Adelaide Street, Brisbane QLD 4000; therefore, you know that you're getting your money's worth if you select this as your new Virtual Office Address.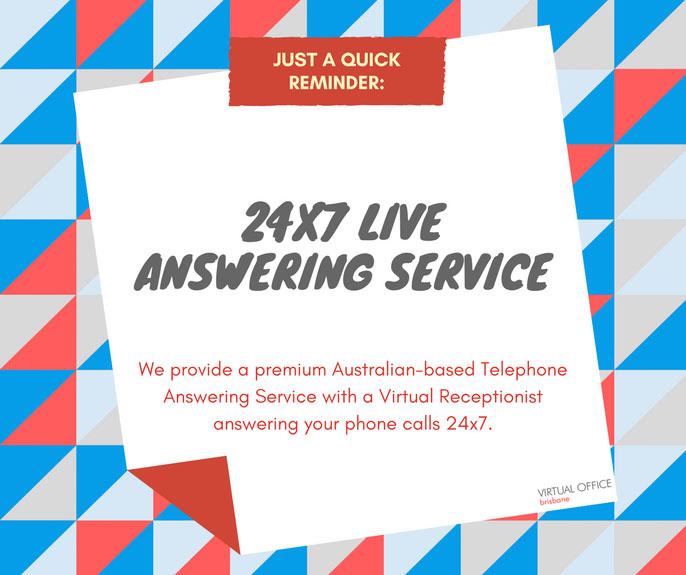 ---
2. Professionally Trained Virtual Assistants and Virtual Receptionists
Telephone answering is one of the key services by Virtual Office providers. However, each provider is unique on how they operate. Some companies hire professionally trained receptionists to accept calls for their clients, while others choose to outsource the entire service to a call center company. Simply put, you don't want the service that you're outsourcing to be outsourced as well by the company that you hired.
Therefore, it will be wise to choose a service provider who has their own receptionists where your calls are being handled by professionals rather than an outsourced call center agents. Since they will be the frontliners of your company and will be the one answering the calls from your clients, you deserve to have the peace of mind that they are doing their jobs the right way.
With VOB, we only hire local Australian-based receptionists and assistants to ensure that our clients will be getting the highest level of competence and commitment from their outsourced service.
3. No Contract Required
Sometimes, our judgment can be a little off, especially if we are being persuaded by sales agents in terms of availing a product or in this case, a service. One thing that consumers always try to avoid is being tied up to a contract, most especially if this will be the first time getting someone's service. As much as possible, you want to test the water first with your partnership with a Virtual Office provider, which is why it's better for your company to choose a provider that won't tie you up to a contract with no minimum term. So that if you like to drop their service, you can do it anytime without worrying to pay for a hefty bond.
If you want to try Virtual Office services without any long-term obligation, Virtual Office Brisbane is your best option. You can cancel your Virtual Receptionist service anytime, while Virtual Office Address has a 3-month subscription option.
4. Avail the 7-Day Trial
There are companies who offer a 7-day free trial service like Virtual Office Brisbane. This way, you can experience how the assigned receptionist handles your customer's queries and from that experience, you can decide whether to continue with their services or not. Also, make sure that the trial service that you are getting doesn't have a string attached whereby you are forced to sign with them after the free trial service.
5. Tailor-Made Services
Every business is unique and should be treated as such. Avoid getting a Virtual Office that provides a one-size-fits-all package. Think of your business as your child where it needs to be nurtured and given a careful attention by providing them what they really need. Not all organizations have the same needs because they are unique in their own way. This is the very reason why you need to choose a provider that takes the time to get to know you and your business. You'll know that you're in great hands if they pay attention to every detail that you want your company to achieve.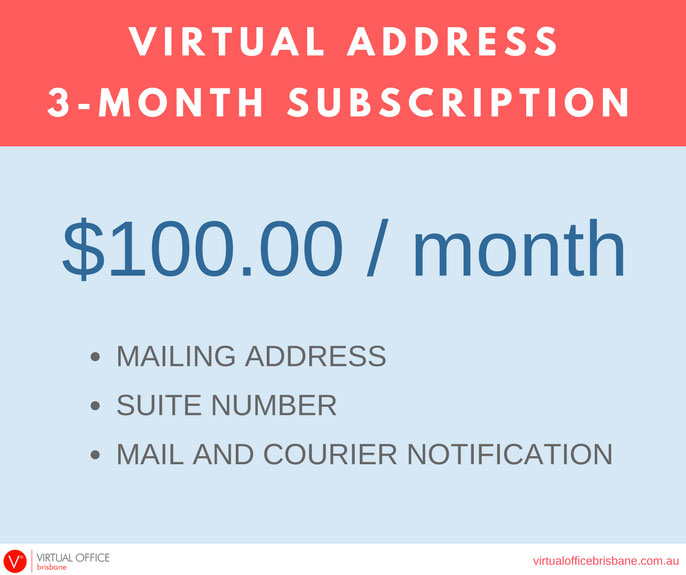 ---
6. Value for Money
Before you hire a Virtual Office service provider, have you gathered enough quotations to compare their prices? You need to do this so that you will get the best price for the service you require, considering that all other factors are equal. You want to see all the options especially if it involves paying a fee for the service that you would like to avail. Sometimes, you have to ignore suspiciously low pricing as it may suggest a lower service quality.
Finding a good Virtual Office provider that fits your business needs is not a hard task. There are Virtual Offices readily available around the world, so there is no shortage of options to choose from. But just a reminder before you make the decision, take all these tips into consideration before deciding on who you will select. At the end of the day, it is you who's accountable for all of your business decisions.
If you are ready to take a plunge into the business world or eager to expand your business but contemplating about the risks, you may jump-start it with a Virtual Office. It's definitely a perfect solution to help you test the market for your new venture or expansion without having to worry about expensive overhead costs. You may explore your options with Virtual Office Brisbane and move towards reaching your goals for your business.